Why Do I Need a Radar Detector?
I know it's nearly impossible to speed in a Toyota Van, but I've always been a huge fan of radar detectors. Mine has paid for itself many times over, especially when you consider a decent detector runs you the cost of a single speeding ticket. They keep me notified of police activity as I'm driving, and if nothing else, remind me to be mindful of my speed. I think its pretty realistic to say that sometimes we get into the "autopilot" mode of driving and can speed without really noticing. Those seem to be the times I get pulled over – when I'm going 45 in a 35 or 75 in a 65 because I was just in driving mode and not really being mindful of the speed limit and my odometer.
As much as I support our police forces nationwide, the fact remains that I just don't trust them (or myself) enough to drive without one. For the same reason, I also install a dash cam in each of my cars as an additional layer to my auto insurance for a pretty cheap price.
Waze works well for reporting police and speed traps, but is kind of a pain to fire up every time I drive somewhere. A radar detector, hardwired and securely mounted, looks awesome and fires up with the car automatically everytime I get in without having to power on or configure anything.
What Do I Need to Buy?
I recently got a Cobra DSP9200BT on sale, and installed it in my Prius, so I relegated my Whistler CR90 to the van. The whistler is by no means outdated or underperforming – it is an awesome, well reviewed detector with excellent range. I just figured I'd put the more expensive detector of the two in the Prius, since it's a lot easier to speed in than the Van.
I did several hours of research into different detectors, so let me save you the trouble and recommend the ones I use, the Whistler CR90 and the Cobra DSP9200BT
Obviously each has different features and price points, but my experience with the CR90 has been excellent for the price. Its a more budget oriented device that performs on the same range as some higher end units. The CR80 CR85 are very similar as well if you want something without GPS. The GPS feature allows for detection of red light cameras and speed traps using your location, but I haven't used that much as those aren't really employed by Utah police. You can periodically update the database on Whistler's site in order to keep the unit up to date with the latest info on speed cam and red light cam locations.
You'll also want to use a radar detector mount that uses 3M mounting tape, like this one I found on eBay for cheap. In my experience, suction cup mounts just aren't worth it. For an extra couple bucks a better mount saves your new fancy detector from many hard falls onto the dash or floor while you're driving (not to mention the hazard that poses.) You can also get a rear view mirror mount, which also works much better than suction cups.
Either way, you want to hang the detector so its high on your windshield and has a clear view out both your front and rear windshields. Another thing you'll want is a hardwire kit. The detector will come with a plug for the 12V socket (cigarette lighter) but those are messy and the dangling cord is distracting. I like a hardwire kit that I can tuck the wire away and have it wired right into my fuse box to an accessory fuse. If you need one, you can search amazon. Example: "radar detector hardwire kit" For your convenience, here is a link to a few:
If you do a hardwire, you'll also want to get a fuse tap of some kind. It plugs into a fuse and allows you to install it onto an existing fuse. You can try to cram the wire in but this allows for a little bit neater and secure installation. I used these fuse taps on Amazon
Installation Instructions
Once you have your radar detector, windshield mount, hard wire kit, and fuse taps, you can begin the installation. On mine, I started by mounting the radar detector in the location I wanted. I mounted it slightly left-of-center in order to have room for my dash cam as well.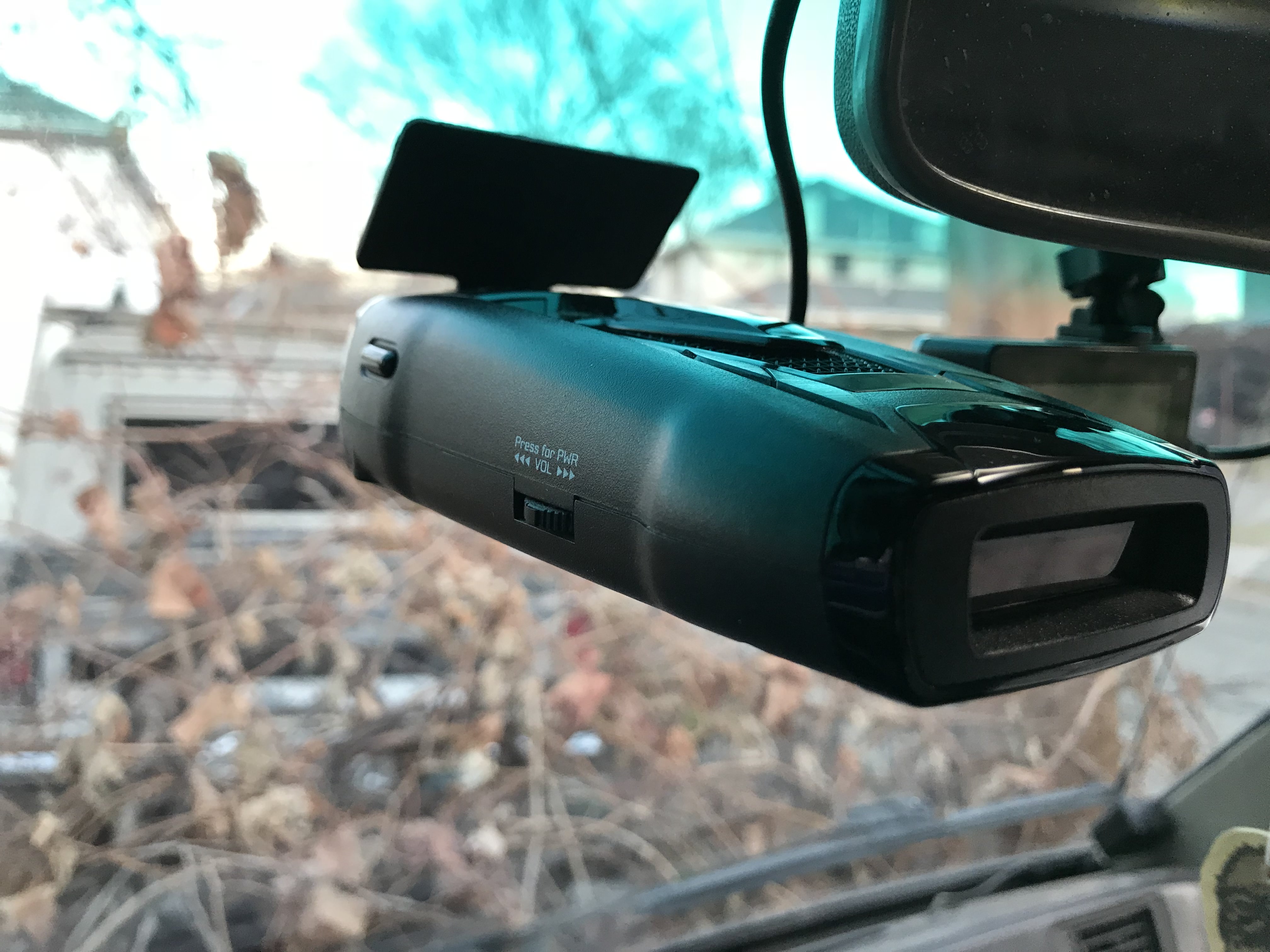 Whistler CR90 installed with a 3M tape mount (suction cups are horrible)
The only thing I'd say is make sure you can still flip your sun visor down without the detector blocking it. if you go too high/left it will block your sun visor, and if you're using 3M tape like me, once you stick it on the glass it's really hard to get off without ruining the tape!
Now you can start tucking the wire away in the rubber stripping that the headliner tucks into.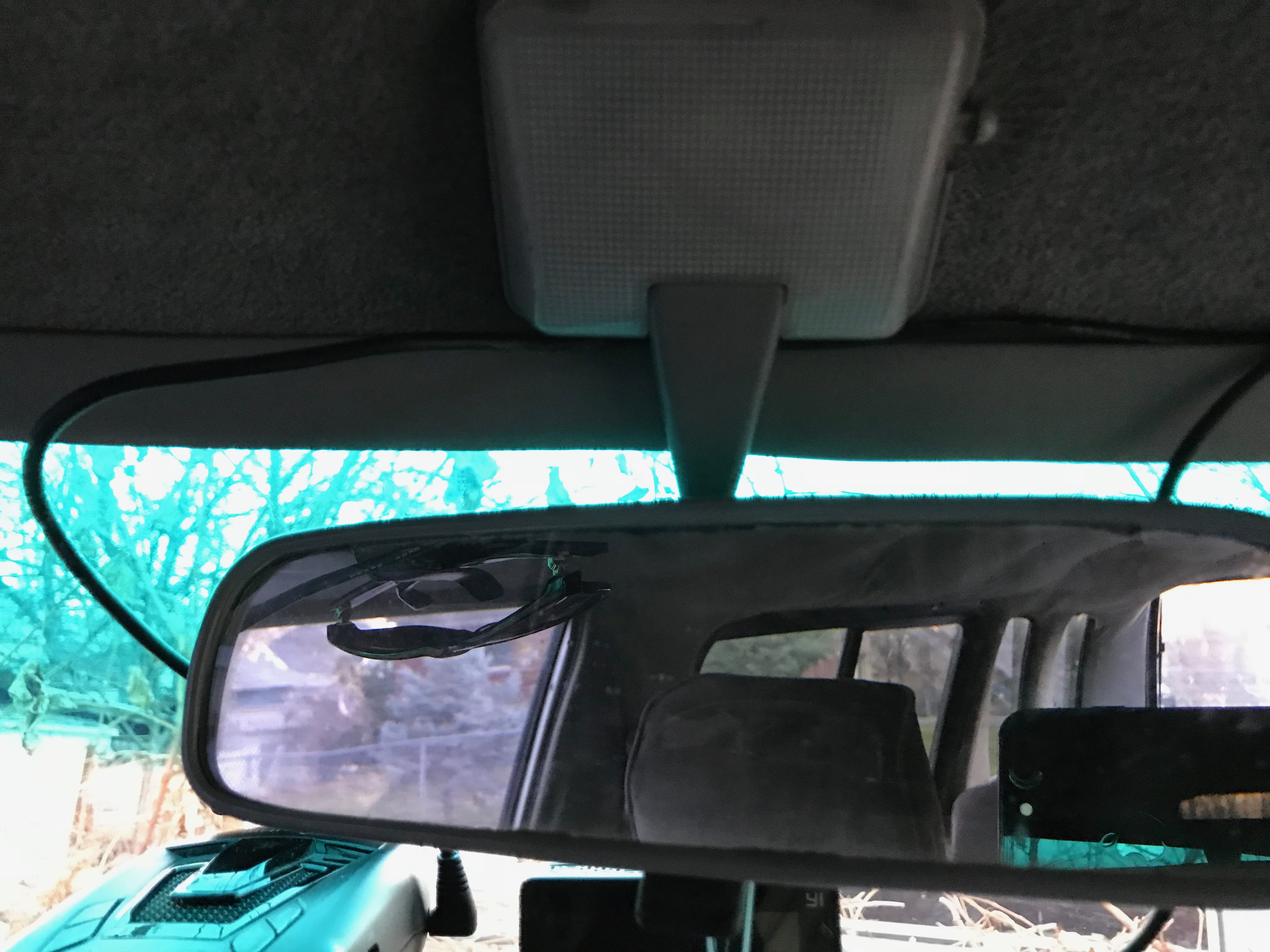 Hide the wiring along this rubber trim piece all the way to the right pillar
After that, I partially unscrewed the "oh shit!" handle, which allowed me to pry up the plastic trim along the pillar enough to disguise the cord on its length down and behind the dash. I ran it behind the dash and along the top of the foot well where the carpet ends.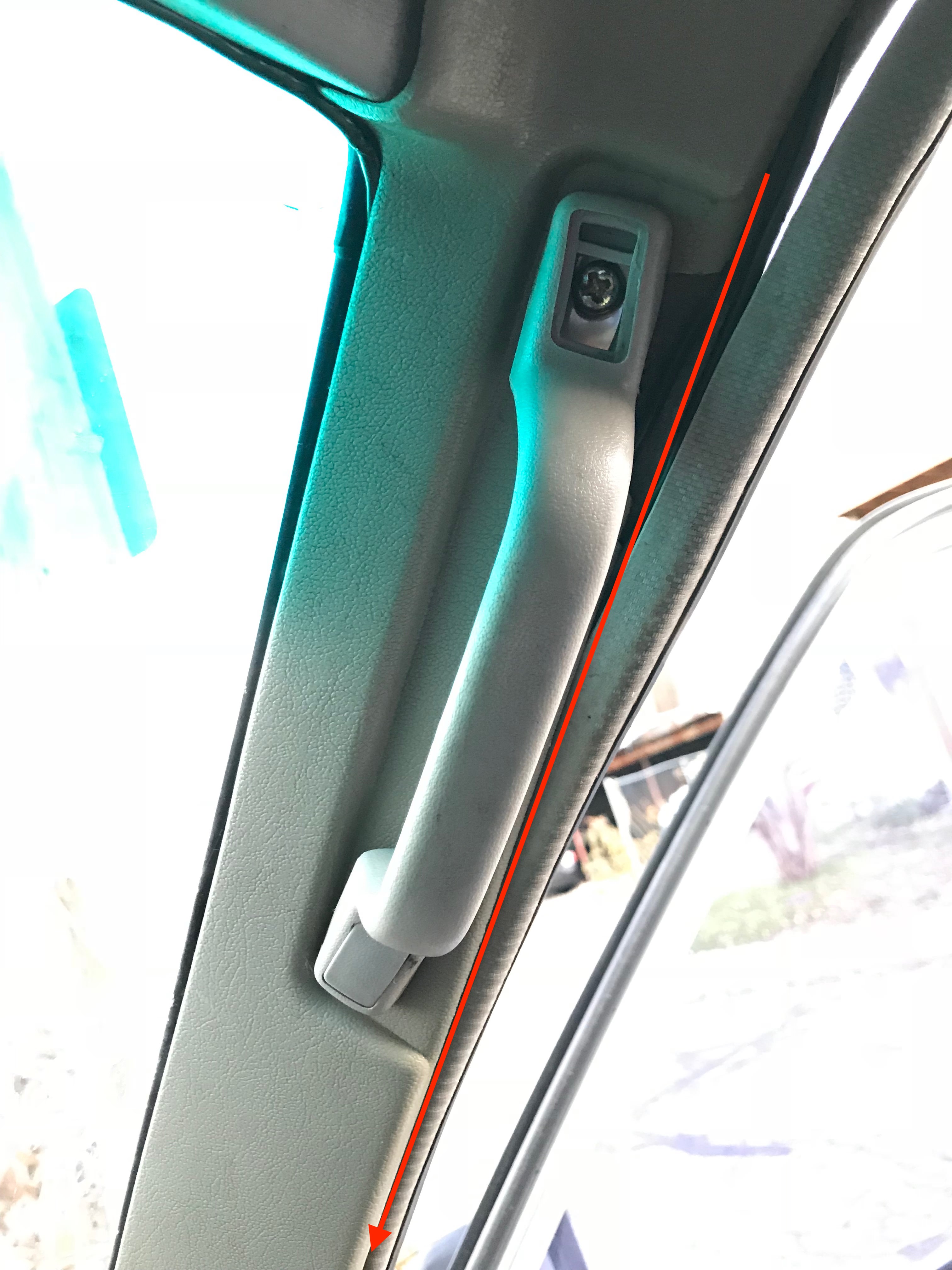 Pop off the plastic cover and loosen the screw so you can fit the wire under this trim piece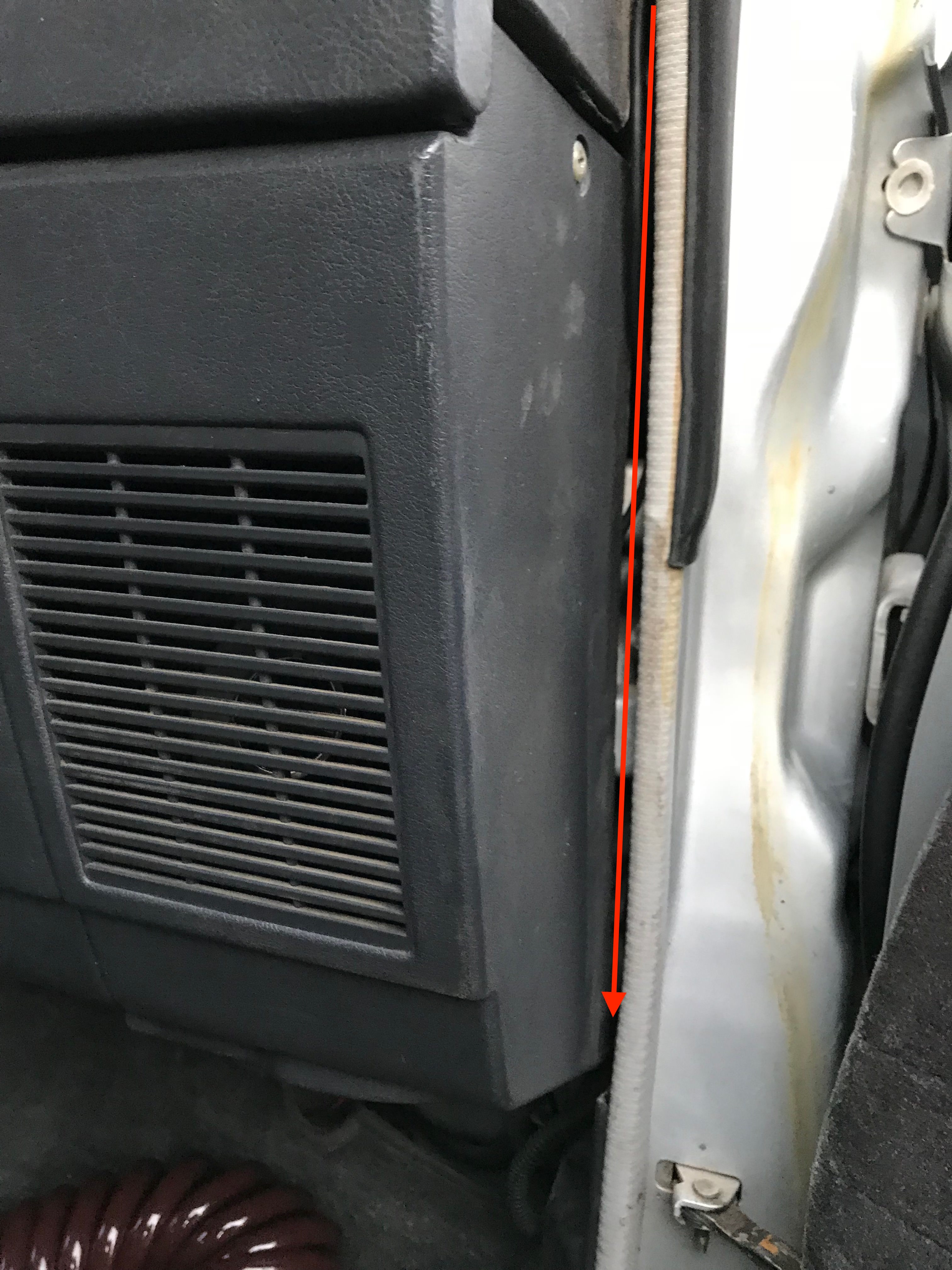 Conceal the wires easily along this seam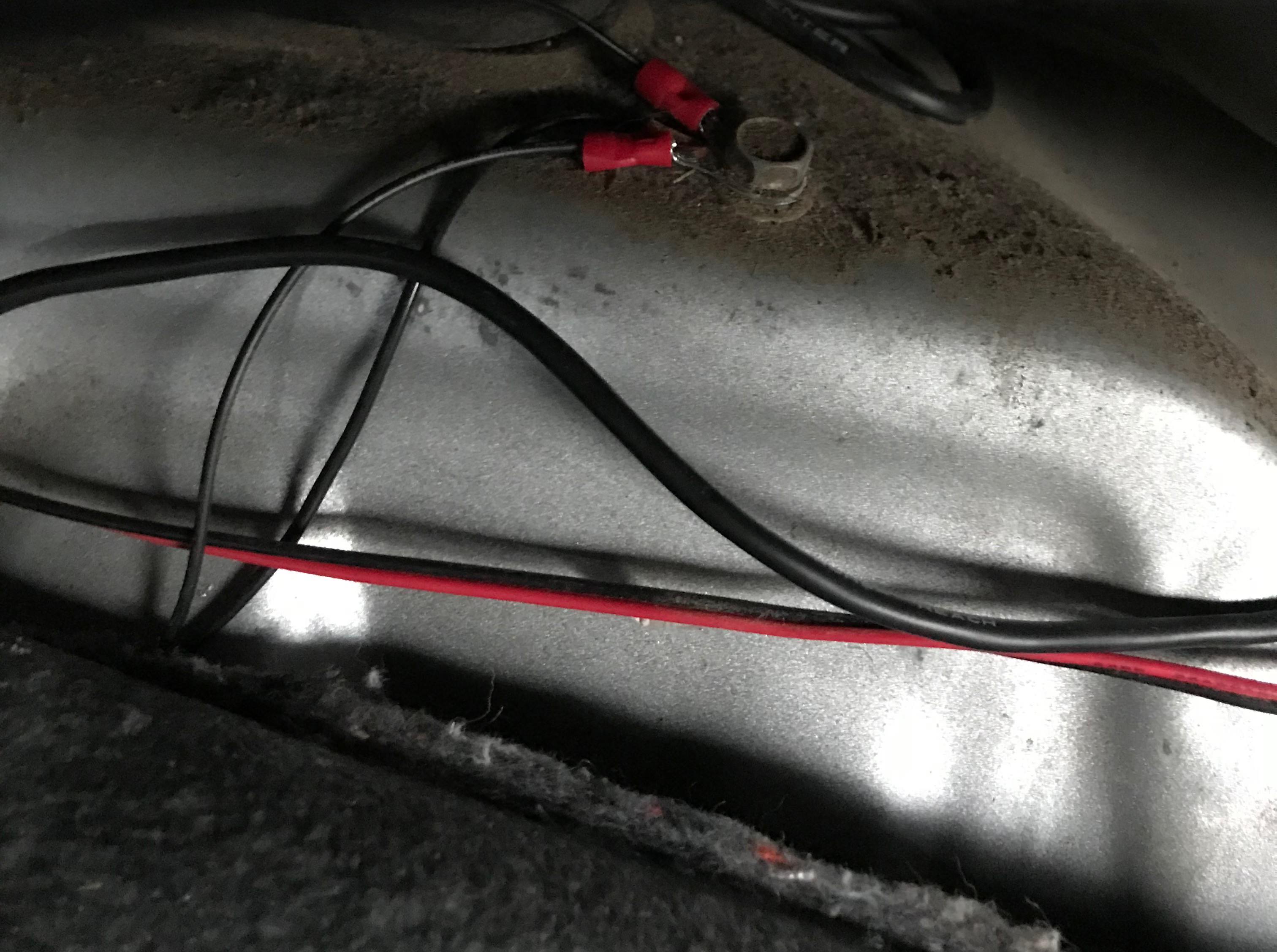 Perfect ground point just under the top edge of the carpet on the passenger side
After that, simply ground the black wire and connect the red wire to power. I tapped it into the cigarette lighter fuse since I already have a bunch of stuff like my gauges tapped into the stereo fuse. Any fuse that comes and stays on with the engine will work. Just make sure it's not on a some odd fuse like a blinker circuit otherwise you'll have to turn your blinkers on to turn on the detector, hehe. Heres how mine looks: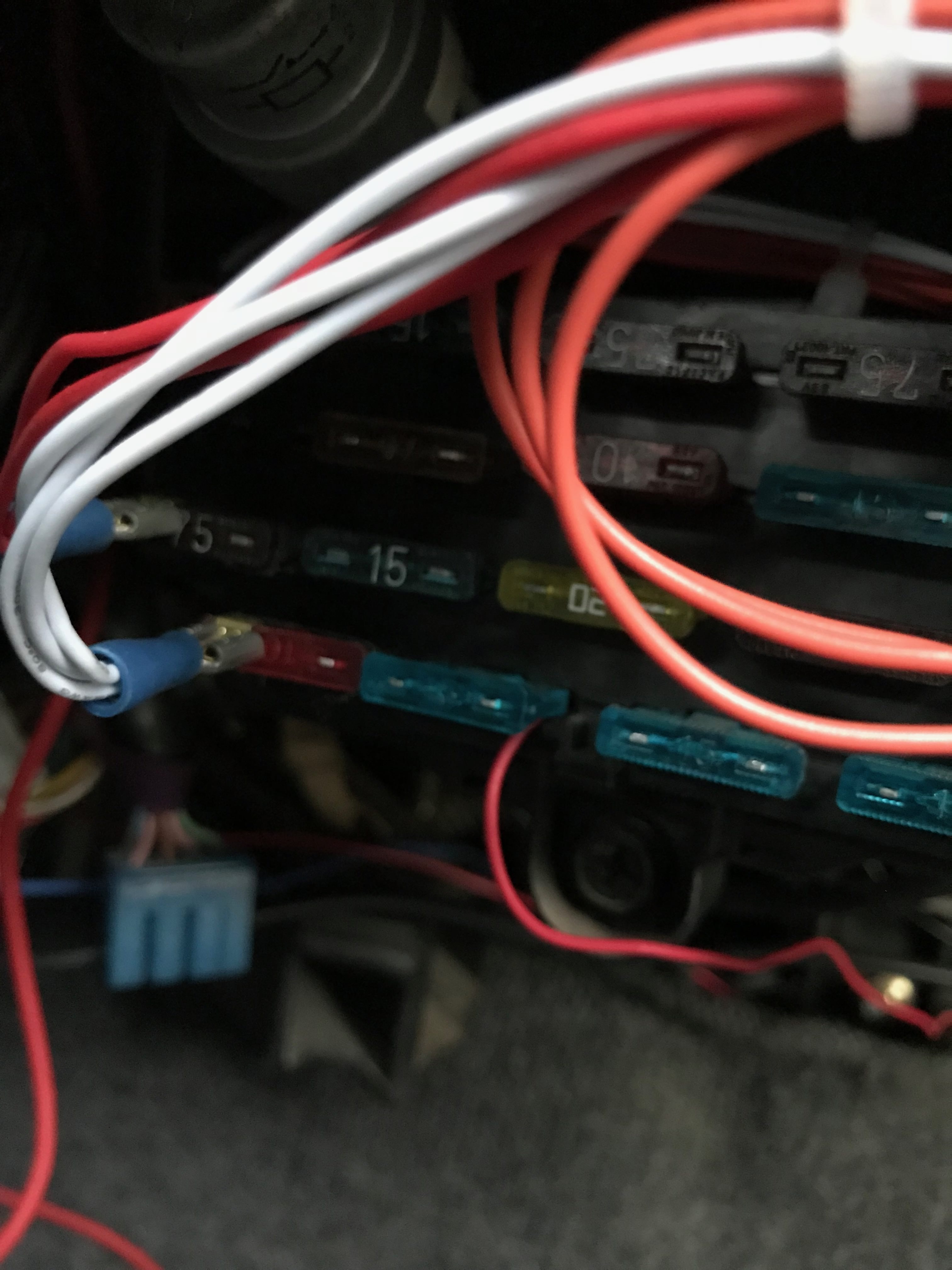 The dash cam is the single red wire running to the blue fuse. Any accessory fuse will work.
That's all! You should be able to turn your key to accessory power now and see the detector come alive. Refer to your detector's user manual to configure the clock and functions how you'd like (I disabled X and K bands because I get lots of false alerts and the police here only use Ka band) and you're now off to the races. Ever heard the parable of the turtle and the hare? Here's the finished setup with both my radar detector and dash cam installed – Sasquatch included: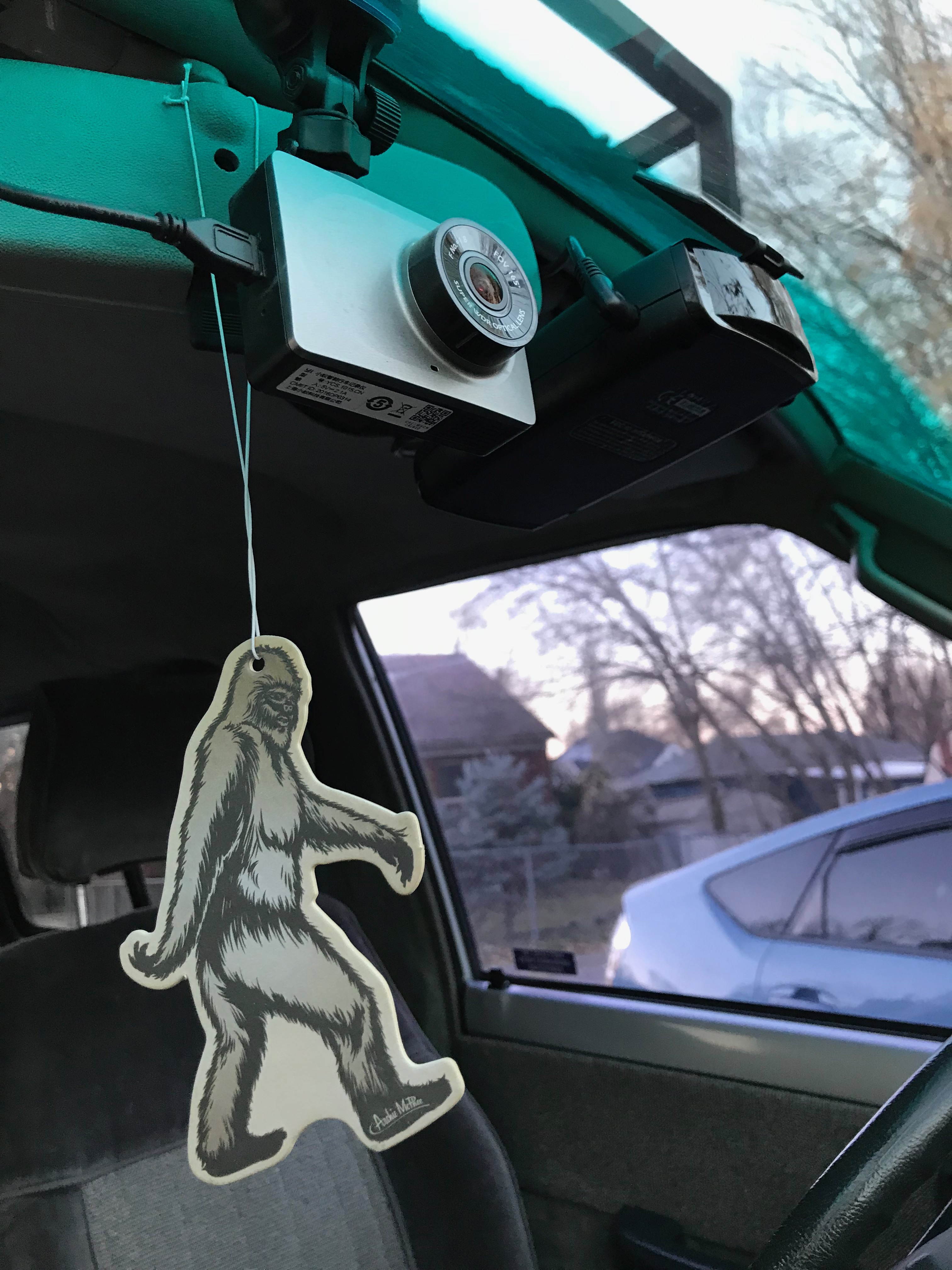 Radar detector and dash cam installed with hard wire kit. Sasquatch optional.
Let me know in the comments if you have any questions, or need recommendations or links to parts or products! I'm happy to help out!